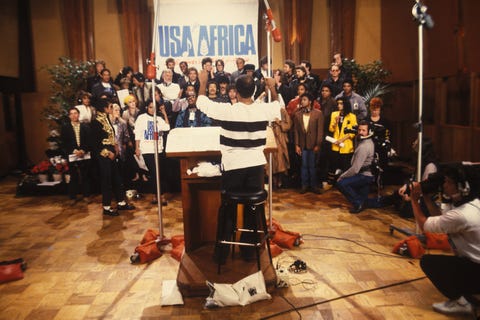 Written by Lionel Ritchie and Michael Jackson 35 years ago, Esquire magazine has published a Ryan D'Agostino article recently: The Inside Story of We Are The World.
This is an interesting look into how the song came together at the close of the American Music Awards earlier that evening. Here's a snippet with Michael Jackson and Quincy Jones discussing the chorus lyrics:
And so with forty-five huge stars due to arrive in an hour to record the song, Jackson was there, laying down the chorus, doing his own backing vocals, and still trying to decide on the words.

"I like 'you and me,' " Jones said.

"'Kay," Michael said, shifting his weight. "It's much more soul."

"Yeah, it's more soulful. Country."

Jackson shifted his slight frame from foot to foot.

"Country," he said in his high voice.

And he sang.

We are the world, we are the children. We are the ones who make a brighter day, so let's start giving . . .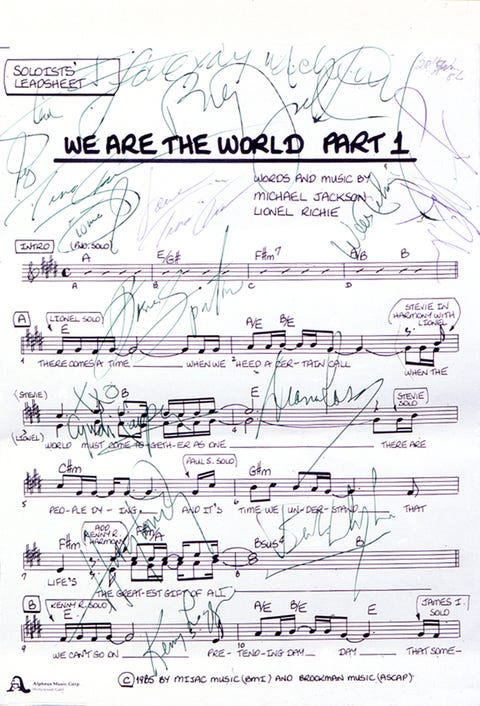 Sheet music signed by the artists
And on that better/brighter note:
The lyrics, as written, read, "We are the ones that make a better day, so let's start giving . . ."

But a lot of people seemed to be saying brighter instead of better.

Someone asked, "Is it brighter or better?"

"Whichever one feels good," Richie said. "Better or brighter? Brighter's the one everybody's leaning to, right?"

Everyone looked at their sheet music. Paul Simon, wearing a blazer over a checkered shirt buttoned to the neck, conferred with Tina Turner and Billy Joel. "Seems like they're making a change," he said.

"I think it should be brighter, all the way," Joel said.

"Me too. It felt like everyone was singing brighter."

Springsteen was looking at his music. "This is brighter?"

Huey Lewis leaned over his shoulder. "No—better, yeah, that's gonna be brighter now."

Springsteen: "Do I ever sing this?"

"No," Lewis said. "It's gonna be brighter. [Singing to Springsteen] 'It's true, we make a brighter day.' "

Wonder seemed to be the lone holdout. "Better has more bite," he said.
Ah, even the 'best and brightest' struggle with a word here or there :). May the Muse stay with them and with us all…