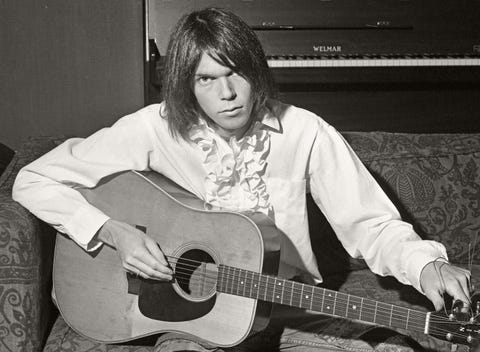 And staying with Esquire, they also revisited "Ohio" by Neil Young on its 50th anniversary stemming from the Kent State University shooting and death of four anti-war protesters. It still resonates today. It's an excellent read by Jon Friedman:
Fifty years ago this month, Neil Young changed the trajectory of his career and music history forever—catapulting himself from simple songwriter to iconic protest singer with one song. That song was "Ohio."

Written and recorded in the aftermath of the massacre of four students on the campus of Kent State University, on May 4, 1970, "Ohio" resonated immediately and became identified as one of the anthems of the anti-Vietnam War movement. It has endured as a masterful, signature piece of political activism as songwriting.

…

Crosby had shown Young the famous photo of a young woman named Mary Ann Vecchio knelling over a fallen student named Jeffrey Miller during Vietnam War protests on the campus of Kent State University. Miller had been killed by a bullet fired by a member of the Ohio National Guard and the photo ran on the cover of Life magazine. Young saw the song, and as Crosby told Nash, "I saw Neil walk off with his guitar into the woods. And he comes back an hour later with this song."

Crosby, Stills and Nash were blown away by Young's burst of inspiration and decided not only to record the song at once, but to release it as quickly as possible, even though the band was making a sizable financial sacrifice in the process.

…

Tin soldiers and Nixon coming

We're finally on our own

This summer I hear the drumming

Four dead in Ohio
The Muse can strike quickly and make something that resonates 50 years later – kudos to Neil and CSNY and to protest songs… Video below.